You Need Flash. Free Download Here >> >

Asteroid
Saved?
God
Census
Debt
Says
Who?
NI5 8
NI5 9
Joy
English
Language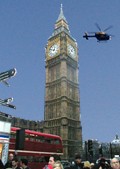 Joy
There are many reasons why we lose the joy of God. It could be that we have disobeyed God and our sins have separated us from Him.

Also if we fail an exam or have troubles, we could get disappointed and lose our joy. It could just be that we are not spending time in God's presence.


'In Your presence is fullness of Joy.' Psalm 16:11.
'My soul shall be joyful in the Lord: it shall rejoice in His salvation' Psalm 35:9.

Spend some time in God's presence and ask Him to reveal to you why you have lost your joy. Repent for any sin and worship Him; let the joy of the Holy Spirit descend upon you once again 'The joy of the Lord is your strength' Nehemiah 8:10.

'For the Kingdom of God is not eating and drinking, but righteousness and peace and joy in the Holy Spirit.' Romans 14:17.

'THE
JUST
SHALL
LIVE
BY
FAITH'
Hab. 2:4

More from By Faith

A change of thinking Go
Film quiz Go
Becoming a disciple of Jesus Go
More doctor, doctor jokes Go
Psalm 23 for computer people Go
Christian youth Canada Go
Lost your joy? Go
Revival? Go

What If?