You Need Flash. Free Download Here >> >

English
Language
Money
Matrix 2
China
Diet
Jokes
Dentist
Revival
Alphabet
Meals
In Christ
Meals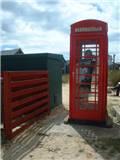 DIY Improvements
A survey of 1,500 people has revealed that spending on DIY projects has increased by 13% over the last year.

DIY enthusiasts often sacrifice holidays or nights out to finance their improvements.

Average spending has risen to almost £2,000 over a four-month period, almost twice as much as on food. Two thirds of those polled said they socialised in their own home more than they used to.

One in ten of those questioned had installed a new kitchen in the past few months, and one in six had laid a new floor.

Most people said they wanted to improve their house because they fancied a new look, not because they wanted to to increase the value of their property.

Scottish people have spent the most on DIY since October 2002 at just over £3,000 compared with £1,000 for Londoners.


'THE
JUST
SHALL
LIVE
BY
FAITH'
Hab. 2:4

More from By Faith

Does the Bible predict a world wide revival? Go
Prayer, intercession, tongues and the Bible Go
Have you read these books? Go
Christian UK Go
DIY improvements Go
More doctor, doctor jokes Go
Who am I in Christ? Go

What If?