You Need Flash. Free Download Here >> >

X-Files
Media
Images
God +
Terror
Internet
Games3
Support
Israel
Map
Whats
New?

Queen Elizabeth

Princess Elizabeth married Philip Mountbatten (4th cousin) in Westminster Abbey on November 20, 1947. Their children: Prince Charles, now the Prince of Wales and heir apparent to the throne, was born in 1948 and Princess Anne, now the Princess Royal, was born in 1950. Prince Andrew, now the Duke of York, was born in 1960, and Prince Edward, in 1964. The Queen and the Duke celebrated their silver wedding anniversary in London in 1972.

In 1977, the Queen's Silver Jubilee was celebrated in the United Kingdom and throughout the Commonwealth. Accompanied by the Duke of Edinburgh, the Queen travelled some 56,000 miles to share the anniversary with the people. 2002 marks the 50th anniversary of The Queen's Accession to the Throne.

In 2002, after the tragic death of her sister, and of the Queen Mother, the Queen's Golden Jubilee showed that the public in the UK and throughout the Commonwealth still love her.

Mission

'THE
JUST
SHALL
LIVE
BY
FAITH'
Gal 3:11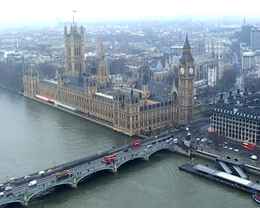 Pray for the Royal Family

"Therefore I exhort first of all that supplications, prayers, intercessions, and giving of thanks be made for all men, for Kings, and all who are in authority, that we may lead a quiet and peaceable life in all godliness and reverence." 1 Timothy 2:1-2.

Information About Great Britain Go
British Culture