You Need Flash. Free Download Here >> >

Dance
Music
Matrix 2
Charge
Free
Software
TTR
Christian
Bands
Truancy
Forgiven
Agony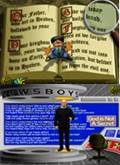 Teenage Eating Habits
A 2001 survey into young peoples eating habits was carried out by the Schools Health Education Unit, which has interviewed almost 300,000 children since 1983.

It asked children about their eating habits on the day they were interviewed . It found British teenage girls are increasingly likely to skip meals in a bid to lose weight. It discovered over 40% of 14 and 15 year olds and 30% of 12 and 13 year olds miss breakfast, which was twice the number of the 1984 poll. It found boys are also missing meals more regularly. Increasing numbers of boys and girls say they want to lose weight. In 2001, just less than two-thirds of 14 and 15-year-olds said they wanted to lose weight, up from half in 1991.

It is good to be healthy and keep in shape, but the pictures we see in magazines and on the TV are not 'normal' people. Many people have body doubles and images can be changed on computers. As you walk down-town you will see 'normal' people.

The survey found healthy eating messages are not getting through to children. They are increasingly likely to eat chips, but less likely to eat fresh fruit. Boys in particular are less likely to consider their health when choosing what to eat.
Spiritual Warning Signals
'THE
JUST
SHALL
LIVE
BY
FAITH'
Hab. 2:4

More from By Faith

Baptism in the Holy Spirit Go
Christian bands Go
Economy class syndrome Go
The Matrix Reloaded Go
How to look after your first car Go

Forum