You Need Flash. Free Download Here >> >

Dance
Music
Matrix 2
Charge
Free
Software
TTR
Christian
Bands
Truancy
Forgiven
Agony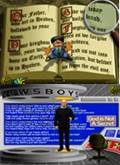 UK School Truancy
A British survey on school truancy found half of all children absent from school were with an adult. Officers and local authority education welfare officers blitzed town centres in December 2002 in a truancy crackdown.

The North West of Britain, which includes Manchester and Liverpool, had the highest figures according to the Department for Education and Skills.

The UK Government is committed to reducing truancy rates by 10% in 2003 and several local education authorities are piloting 'fast-track' prosecution of parents, which means that if the children play truant then the parents can be fined or imprisoned.

In March 2003 several parents went through the 'fast track' system only to be told by the judge that the cases were adjourned for a later date!
Spiritual Warning Signals
'THE
JUST
SHALL
LIVE
BY
FAITH'
Hab. 2:4

More from By Faith

Baptism in the Holy Spirit Go
Christian bands Go
Christian youth Go
Economy class syndrome Go
The Matrix Reloaded Go
How to look after your first car Go

Forum