You Need Flash. Free Download Here >> >

What's
New?
I Am
Giver
Interact
Bible
quiz
Shark
Quiz 2
Revival
Rejected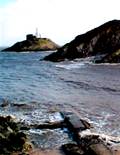 A Generous giver
We have to be faithful and wise stewards with what God has entrusted us with.

2 Corinthians 9:7 'Each of you should give what you have decided in your heart to give, not reluctantly or under compulsion, because God loves a cheerful giver.'

Matthew 6:19 'Store up for yourselves treasures in heaven, where moth and rust do not destroy, and where thieves do not break in and steal.'

Acts 20:35 'It is more blessed to give than to receive'.

If you take care of things that are dear to God, He will take care of the things that are dear to you.

"Expect great things from God, attempt great things for God". William Carey, (The father of modern missions).


'THE
JUST
SHALL
LIVE
BY
FAITH'
Hab. 2:4

More from By Faith

Quiz number four Go
Webmasters help Go
About Us Go
Interactive Go
Fun Go
NI5 files Go
Ecstasy & satan Go

Forum