You Need Flash. Free Download Here >> >

NI5
Files
Newsboys
X-Files
Games 2
Quiz 1
Miracle
Map
Games 3
Media

2002 House Prices


The soaring UK house prices have left many possible first time buyers very worried. Leaving them with the prospect of needing to borrow £110.000-£180.000 to buy a small house in many prosperous areas throughout the UK.

Average earnings have failed to keep pace with house prices rises over the last 12 months. However, UK house price inflation was showing the first signs of cooling down, the annual rate in August 2002 was 18.8%, comparing that with 20.8% in July 2002.

However, prices have continued to rise way into 2003. The UK government's reponse is to invest in half a million low cost houses for first time buyers.
E-Mail Us

'THE
JUST
SHALL
LIVE
BY
FAITH'
Heb 10:38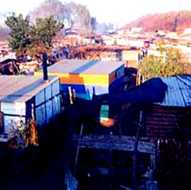 More from By Faith

Jokes 10 Go
Last Month Go
NI5 Files Go
Tribe Go

Prayer