You Need Flash. Free Download Here >> >

Forum
Polls
GB
Impact
Queens
Biography
Flash
Vote
Sex It's
too late?
Virtual
Tours
Revival
Tours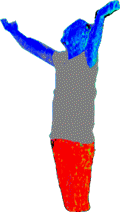 Hope

Hope is the expectation of future good. Are you expecting good for your life? Jesus said, "I have come that you may have life, and that more abundantly" John 10:10. God is love, God is good. When He deals with you, it is always in His love and goodness.

The call to repentance is a call to abundant life, and salvation from hell. He has delivered millions from sin, sickness and the burden of a heavy life. Hebrews shows us that when God disciplines us, it is because He loves us, to help us be better people and have a better life.

He wants you to forsake sin, because of the pain it causes you and others. His plan is so good for you, and for that reason you can have hope. Do you believe the Bible? If you do you can have hope and as you have hope and obey you will see the promises of God come true for you.

"For I know the plans I have for you," declares the Lord, "plans to prosper you and not to harm you, plans to give you hope and a future. Then you will call upon Me and come and pray to Me, and I will listen to you. You will seek Me and find Me when you search for Me with all your heart." Jeremiah 29:11-13.
'THE
JUST
SHALL
LIVE
BY
FAITH'
Gal. 3:11


New life resolutions Go
Spiritual warning signals Go
Mission files Go
Who did God use in this miracle? Go
Fun Go